PRE-Bike Week Daytona Beach
Feb. 27 - March 7, 2004 The 63th Anniversary Bike Week
BikeWeekDaytonaBeach Home
BikeWeek 2004 Home
Pre-BikeWeek News Home
We are adding a new section to pre-bikeweek of photos from you on what will make you come to BikeWeek (ie. too much snow up north, the aurora lights told me to, the mudslides, the forest made me too lonely, etc). Photos must be taken on or after January 1, 2004, first name only and city and a paragraph on what it is about. Photos will be censored down to a PG level (for people who love too much).
Email it to bikeweek1. The address is found at the bottom of the page at http://www.bikeweekdaytonabeach.com .
1/4/2004
View of Beach St. from the ground where concerts and events are normally held during each Bike Week.







1/10/2004
Ya right.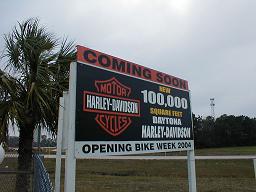 Write to us the federal, state and local laws that this sign is breaking. You will win a prize if you can name all of them. A few hints, FTC concerning advertising, State of Florida concerning Bill Boards, etc.
1/12/2004





YEAR-ROUND BUSINESSES THAT MAKE BIKE WEEK HAPPEN ON NORTH US.1
1. Iron Horse
2. Jackson Hole
3. Broken Spoke
4. Smiley's Tap
5. (not pictured) Tomoka Pub
NEW PERMANENTE BUSINESSES





1. Tomoka Indian (Motorcycle repair)
2. Gumbos (Food) They are waiting for the city sewer connection before the can open the restaurant.
3. Barney's Leather (Leather Franchise). Let see if they will survive this area after one year. Opening on Bike Week.
4. (not pictured) Riverside Grill (Food). A big new restaurant opening by Bike Week located on the other side of Tomoka River. We will have pictures of this new facility.
SCAVENGERS OF BIKE WEEK



1. Hog Pen (More like pig pen after bike week). Sells only beer, vendor space, and parking space.
2. Wild Bill's (This should fall in the OTHER category. This must be the results after you burnout in the 60's or 70's). Sells only beer and vendor space.
OTHER LOCAL BUSINESS




1. Local manufacture. (They hide in the woods). Music, parking, vendors, and food.
2. RV sales. Only one vendor is allowed here. (Corbin Saddles).
3. (no pictures ) 3 local businesses that does parking, 1 that does vendors, and 1 that does parking and vendors.
1/14/2004
We have someone who wrote in about what is making them want to come to Bike Week this Year.
This is from Spirit and she lives in Gusev. She was raised up in Cape Canaveral, FL and wants to come here because her current location is too cold, not enough sunlight, a little dusty, and the place looks red all the time.
Here is a picture that she sent. Click here
2/1/2004
Tomoka Pub has turned into Kick-Start Saloon a couple days ago.
Check out our www.bikeweekmag.com on a upcoming article in which what organizations or persons that own some of these establishments. You will be shocked about who or what and their history. Crime never goes away.
2/5/2004
Kick-Start Saloon has been renamed back to the bars original name of Tomoka Pub. The bar's (temporary) new owners might have overlook the fact that there is no special events in Ormond Beach.
2/6/2004
Mr. Bad to the Bone himself (George Thorogood & the Destroyers) will be performing at the Riverside Park(the park along Beach St.) on March 6 (Sat) at 9:00pm(according to www.gthorogood.com). The Daytona Chamber is listing the event at 8:00pm. That little-big motocycle store on Beach St. is listing no info at all(the people who is probably paying for George).
2/8/2004
Styx (the 70's rock band) is coming to the Broke Spoke Saloon on March 4(Thurs) at 8:00pm. Check here for a live free broadcast since they normally exceed the county's noise ordinance. You probably hear them on our normal bikeweek broadcast on north U.S. 1. Our north U.S. 1 broadcast is now live and the sound will be turned on at the beginning of Bike Week.
2/23/2004
Only 4 more days before Bike Week 2004 starts.
The vendors are already setting up today on Beach St. and Main St.
Here is some photos around 5 p.m. of north U.S. 1 today and some photos of Beach and Main St. tomorrow.
Iron Horse
Broken Spoke
Ormond Beach new sign for the Industrial Park
2/24/2004
Rain, rain, rain and more rain. There will be more rain for the next 2 days.